Awards and Decorations Classes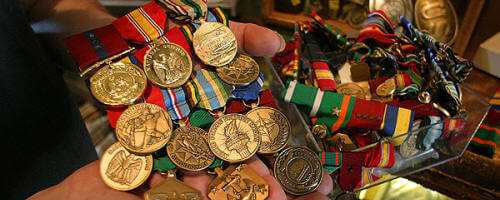 Medals, Decorations and Awards
Awards and decorations of the United States Military are awards and decorations which recognize service and personal accomplishments while a member of the United States Armed Forces. Together with military badges, such awards are a means to display the highlights of a service member's career. Precedence of particular awards will vary slightly among the different branches of service.
The Awards and Decorations Branch has consolidated a Powerpoint on "Awards Processing and Training Package" that may be accessed here on this page. That Powerpoint covers peacetime/wartime awards approval authority, individual decorations, the Purple Heart, Combat Badges, Unit Awards, Campaign and Service Awards and routine challenges in the Awards Program. Good tool to use by all units and leaders on awards and decorations.
The objective of the Department of the Army Military Awards Program is to provide tangible recognition for acts of valor, exceptional service or achievement, special skills or qualifications, and acts of heroism not involving actual combat. Individual awards are grouped into the following categories: Decorations, Good Conduct Medal, campaign and service medals, service ribbons, badges and tabs, and certificates and letters.
Archives