How to be a better Army Presenter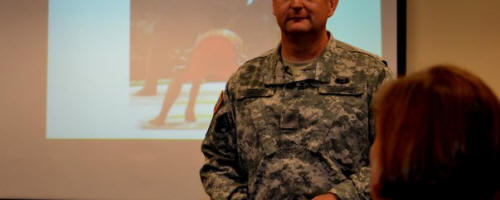 Improvement Techniques
Improve Your PowerPoint Presentations, Reduce Complexity the Army Way Ideas
The Modern Presenter MS helps
The Dirty Half-Dozen– Today's Most Common Presentation Problems and How The Modern Presentation Method Helps You Outflank Them.
The Extreme Presentation™ Method
Getting Your Point Across: Presentation Skills his article supposes that you have been asked to make a presentation, and asks you to consider how you will approach your topic and how you will break it down to get your point across.
Beyond Bullet Points I: Telling a story with your presentation, Microsoft
Article, 7 Ways to Tell Stories with PowerPoint, Forbes
Did a Powerpoint briefing launch a lucrative career? From the article:  Barnett, an expert on Russia and the Warsaw Pact who holds a Harvard doctorate in political science, was a professor of strategy at the Naval War College and adviser to the Pentagon's Office of Force Transformation when he devised a PowerPoint briefing that catapulted him to prominence after Sept. 11, 2001.
Is the Lessig briefing method the next big thing? Read here.
Army Basic Instructor Course – 5K-SI5K/012-SQI8
Formerly known as the Total Army Instructor Training Course (TAITC), the Army Basic Instructor Course (ABIC) qualifies soldiers to instruct MOS Qualification courses, and other formal Army training. The course also endeavors to enhance the trainer skills of the individual soldier.
During ABIC, soldiers must learn how to prepare lesson plans, present training to small groups, and give oral presentations in a classroom setting.
Prior to graduation, soldiers are required to present a formal block of instruction.
Upon graduation, soldiers are eligible to receive the Additional Skill Identifier "8" (Instructor).