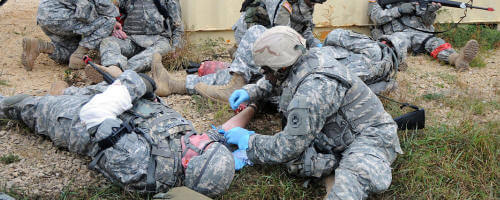 Medical, Health, Care under Fire and TCCC
The mission of the casualty system is to record, report, verify, and process casualty information from unit level to HQDA; notify appropriate individuals; and provide casualty assistance to next of kin. Casualty operations includes casualty reporting, casualty notification, casualty assistance, line-of-duty determination, reporting status of remains, and casualty mail coordination.
Health Care Specialists are offered a wide array of opportunities for additional training to become a specialist in certain medical fields if you qualify, from Combat Medic to a Physician`s Assistant. The 68W Health Care Specialist is the second largest Military Occupational Specialty within the Army. Training includes pre-hospital emergency medical trauma care which incorporates tactical combat casualty skill sets. Soldiers will report to units throughout the Army as "Combat Medics" who are Emergency Medical Technician-Basic certified and possess the skills to survive the battlefield and accomplish their medical mission.