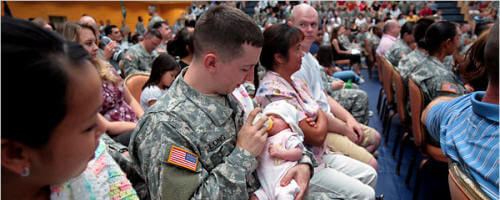 AER, Red Cross, ACS, AFAP, ACAP and ASAP
Army Community Service (ACS) Programs, Services and Facilities services include welcome packets, a lending closet for household goods, Army Emergency Relief (for active duty, retired military, surviving dependents of active duty and retired military or family members with power of attorney only), employment readiness, family special needs coordination, financial readiness, mobilization support, referral to local community resources and relocation assistance. The Survivor Outreach Services program provides support and outreach to Gold Star Families who have lost a military service member. Classes include Army Family Team Building, stress management, financial management, elder care, parenting and many other topics of interest to military families. A Victim Advocate Program provides services to victims of domestic violence and sexual assault, available 24 hours.
The Department of Defense Transition Assistance Program (TAP) provides job assistance and separation counseling services for Soldiers and their Families during the transition away from active service. TAP services are provided on military installations by Transition Assistance Officers. On Army installations TAP services are delivered through Army Career and Alumni Program (ACAP) centers. TAP initiatives include transition information and counseling for pre-separation, employment assistance, relocation, education and training, health and life insurance, finances, Reserve affiliation, disabled Veterans, and retirement.
The Army Family Action Plan (AFAP) Program creates an information loop between the global Army family and leadership. Information from AFAP delegates gives commanders and leaders insight into current satisfaction detractors, quality of life needs, and expectations of Army constituents. Leadership uses the information, at their discretion, to improve standards of living and institute information and support programs that foster satisfied, informed, self-sufficient individuals. The improved entitlements, benefits, and programs contribute to making the Army an attractive career choice, retaining members and families on a long-term basis, and reinforcing readiness.