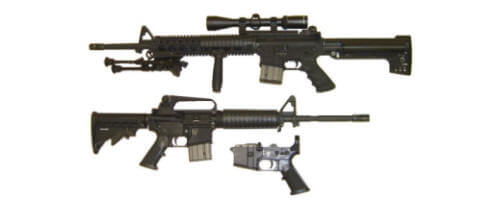 Army Assault Rifles
Assault rifles are a selective fire (selective between semi-automatic, automatic and/or burst fire) rifle that uses an intermediate cartridge and a detachable magazine.Assault rifles are the standard service rifles for the US Army. Assault rifles use smaller cartridges and are used at closer ranges than battle rifles. The larger sized rifle cartridges used in battle rifles make fully automatic fire more difficult.
The AR-15 is a lightweight, 5.56 mm/.223-caliber, magazine-fed, air cooled rifle with a rotating-lock bolt, actuated by direct impingement gas operation or long/short stroke piston operation. It has been produced in many different versions, including numerous semi-automatic and selective fire variants. It is manufactured with extensive use of aluminum alloys and synthetic materials.
The term "assault weapon" was a spin-off of the U.S. military's definition of assault rifles. The U.S. Department of Defense has long defined assault rifles as fully automatic rifles used for military purposes. Fully-automatic weapons have been prohibited in the U.S. since the National Firearms Act of 1934. Fully-automatic firearms can spray fire with a single pull of the trigger, while semi-automatic guns fire one shot with each pull of the trigger.